During the past five months, living the way we've been living, I pretty much have one or both of the kids awake and with me from 6:30 in the morning to 10:30 at night. This is a long time to go without having your own thoughts or body to yourself. (That sentence should be in all caps) Not that those hours aren't filled with the most entertaining moments, and the biggest laughs and delights of my life. But ... you know what I'm saying. The 4:30-6:30 stretch of the day can be, for whatever reason, the most patience testing portion. It's the time when I'm most likely to hear myself saying things like, "you want to watch a show and eat dinner on the couch? SOUNDS GREAT." And, "I don't know honey! I don't know. Let's pick a different word than
WHY
, for just a minute."
A few months into this, I decided that I HAD to take some time. If for no other reason, than to feel like a nicer person for my children. Do something emotionally and physically healthy, and make myself a priority for just an hour. If not every day, then at least three times a week. That was my goal. At first that turned into workouts that began after 10:30 at night when I had some alone time, but that didn't last long, because who was I trying to kid. Since leaving the bed before Isla wakes up in the morning wasn't an option (sensitive sleeper), it turned into working out with the kids or not doing it at all.
I should preface all this by saying that I am by no means an expert on health and fitness by any stretch of the imagination (that's my Mom's department), but I do follow a lot of different moms on instagram that demo the different workouts they do with their kids jumping and toddling around them, so I figured, why not me. Why not us. Every morning that I can, I write down a set of exercises, how many reps, how many sets, strap my children on, plug in my headphones, and disappear into the quiet and serenity of my hardcore rap music. (Kidding. Sort of.)
So! Today, I thought I'd demo a few of my favorite at-home, with-kids exercises here, just in case any of you are in the same boat as I am, and/or, just the idea of loading the kids up in the car and driving to the gym sounds like more trouble than it's worth, and/or you don't own dumbbells, but you have children.
Russian twists// (suggestion: 4 sets of 15 reps) This one is particularly more challenging with a baby, since you have to maintain control, instead of just tossing your arms or a weight around.
Plank up-downs// (suggestion: 4 sets of 10 reps) Move from your elbows, to a push-up plank, and then back down to your elbows. Bonus if your child wants a ride!
Floor bridges// (suggestion: 4 sets of 15 reps) This one is a favorite of Isla's. P.S. The farther out your feet are, the more it works your hamstrings.
Sit up and kiss// (suggestion: 4 sets of 15 reps) Also a favorite of whoever's turn it is to sit on my lap.
Wall sit// (suggestion: one minute increments, 4 sets) I hate this one. Painful but effective.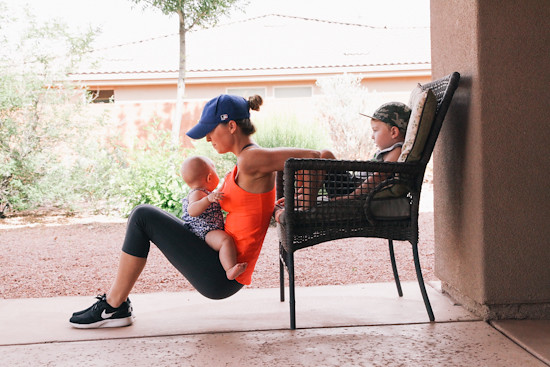 Tricep dips// (suggestion: 4 sets of 15 reps)
Reverse lunge// (suggestion: 5 sets of 15 reps) You can combine this exercise with the next exercise, just to switch up your movement if you get bored easily. There are also an infinite number of squat based exercises you can do holding your children like this.
Reverse side lunge// (suggestion: 5 sets of 15 reps)
Chair step-ups// (suggestion: 5 sets of 15 reps) I don't know why I decided to demo on a chair with a cushion? Obviously, don't do this. I'm normally working on a hard, flat surface in the living room.
One thing that I'm always surprised with (because I've never been very consistent with working out) is how happy I feel when I'm done. Alive and sweaty, and filled with what must be, a million friendly endorphins. I feel better about myself, I make better decisions with what I put in my body after I'm done, and I sleep better at night. And you're probably over there like, DUH. But this, sadly, has been a revelation for me. Making yourself a priority! Whoda thunk.
The PROBLEM however, with making sure a workout happens in the morning, is that after I'm done, and breakfast has been made and babies have been properly napped, the next item of business on the day's agenda is quickly approaching. Most of the time I pretty much have less than 5 minutes to throw myself together.
And don't judge me OK, but I love taking my showers late at night after the kids go to bed, when the house is dark and quiet and I don't have to worry about blow drying my hair after I get out. So that's my thing. After a workout? I just need to spruce up a little. Wipe down, and go. For my regular, day to day look, especially after a workout, I don't even like to put on mascara. Just get that dewy, fresh looking skin, and call it a day. After stalking the
beauty section at
Target
, (where else do I ever go?) I found a dream trio of products that will give me exactly that, in less than five minutes. Probably less than three if we actually timed it. Less than three, in your car, applied in the rear-view mirror even.
First up, THESE. Yes to Cucumbers soothing facial towelettes. Because sweat. And also they've been a go-to for years, and I'll probably never use anything else.
(You guys, never take pictures of yourself wiping your face off.)
Next up!
Pixi H20 skintint
. This stuff is dreammmmmy. It's a tinted gel, so it goes on super light and dewy, but settles into your skin and evens everything out without making you look shiny.
And finally, this baby. NYX wonder stick. (I use the
universal
shade) This is your new best friend, and as much of a wonder stick as it claims to be. It will make you GLOW. I apply the highlighter end above my cheekbones, down the center of my nose, a little above my brow bone and in the center of my forehead.
After that, I take the bronzer end and apply one line down each cheek hollow, and one across the top of my forehead. Then just blend the crap out of it.
And done! My favorite no make-up, make-up look. We'll just pretend I have the ability to look this fresh after working out. Totally.
This post is brought to you by
Target Style
. Shop the new
Beauty
collection in stores and online.